Die Veranstaltung "Batterien und H2-Brennstoffzellen" fand am 19.April an der TU Graz statt.
Alle Vorträge könnt ihr hier nachlesen:
"SAFETY – Ein Schlüssel zur Elektromobilität" von Christian Ellersdorfer (VSI)
01_Ellersdorfer_Safety

"Development Methods in Battery Safety: Simulation and Testing" von Alexander Schmid (TU Graz)
02_Schmid_Development

"Safety of Aged Lithium-ion Batteries" von Syed Muhammad Abbas (TU Graz)
03_Abbas_Safety-of-Aged-Lithium-ion-Batteries_TUG

"Second-Life Battery" von Emanuele Michelini (TU Graz)
04_Michelini_Second-Life-Battery_TUG

"FC4HD – Heavy duty fuel-cell road demonstrator" von Felix Bayer (AVL)
05_Bayer_FC4HD

"Hydrogen Storage Systems" von Dr. Rainer Puchleitner (MAGNA)
06_Puchleitner_H2-Storage-Systems_MAGNA_

"Alternative Antriebe – Im Einsatz bei Schenker Deutschland" von Armin Humer (DB Schenker)
07_Humer_Alternative-Antriebe_Schenker-Deutschland

Abschließend gab es die Möglichkeit das Battery Safety Center Graz bzw. das Wasserstoffprüfzentrum HyCentA im Rahmen einer Führung zu besichtigen.
Ein paar Eindrücke des Veranstaltungen: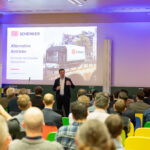 Die beiden aktuellen, großen F&E-Projekte "SafeLIB – Safety Aspects of Lithium-Based Traction Batteries Including the Qualification for Second Life Applications" (https://www.tugraz.at/projekte/safelib/home) und "FC4HD – "Heavy-duty fuel cell road demonstrator" (https://www.wiva.at/project/fc4hd/) bilden – mit maßgeblicher Unterstützung des Bundesverbandes eMobility-Austria (https://www.bve.or.at/) – die Basis für diese Veranstaltung.